Hire Tech Talent
We work with companies of all sizes, from humble startups to Fortune 500 titans, and our recruiting experience spans a wide range of functions including application development, analytics, mobile, agile, product, testing, infrastructure, and more.
Hire Talent
Find IT Jobs
At True Source, we employ a relationship-based approach to connect you with a technology position where you'll be successful, happy, and secure.
Find Work
What sets True Source apart from IT recruiters
With many technology recruiting firms in the Twin Cities, our human-centered process and legacy of success truly sets us apart from the rest.
Results-driven recruiting
Our tried and true methods help us surface contractors and employees that blend with your organizational culture and business. True Source's recruitment process demonstrates proven results, time after time.
History of success
Our extensive network of technology talent is built on 10+ years of traditional and creative recruiting. True Source's mission is to provide your company with the best IT talent (technical ability and personality) to meet your employment needs and goals.
Efficient & cost-effective
Our dedicated team will serve as a powerful resource for your company. Clients appreciate our efficient and streamlined process that manages every detail including pre-screening, in-depth reference checks, arranging interviews, negotiating offers, and providing outstanding service.
Testimonials
Smart people and great service! Thank you for building my career path! - Maxim K.

Great team to work with! Have worked with them on 2 occasions now and would work with them again. I have had the pleasure of working with multiple recruitment firms, True Source stands out as a resource that genuinely cares for their client's passions and career plans. - Joshua R.

The True Source team can deliver on both full time and contract IT work in the Twin Cities. I have had great success and built great relationships with this family first firm. Brad and the team are attentive and tireless when it comes to making a positive career change. - Kory G.

True Source IT is a great company. Way better than the larger recruiting firms. I worked with Wyatt and team to find a great position. He was very communicative and was very responsive and quick to follow up as it related to interviewing and position thoughts. - Nick B.

True Source has been fantastic to work with. They found me a software developer position at a company that is a perfect fit for my career goals. I really felt that the entire process was centered around my wants and concerns. I would definitely recommend them to anyone on the job hunt. - James V.

True Source has been fantastic to work with. One thing that immediately stood out to me was Wyatt did everything he said he was going to do. Every step of the way was communicated to me, timely and accurately. Also they are very particular who is placed for what job, they get the placement right. - jack d.

True Source has been awesome to work with! JP was able to get me an interview with an excellent company that was a sure fit from the start. Any questions or needs that I had were answered extremely fast. The whole experience has been very pleasant and the entire team over at True Source are willing to go out of there way to make sure everyone is happy. I highly recommend. - Justin B.

The worked hard for me and got me in the door at a great company! Thanks a ton guys! - John H.

I found myself in the job market after an unexpected layoff. Within two weeks of losing my job, the crew at True Source found me a new job with more potential than I have had in the past.Thanks True Source - David A.

I am glad I got connected with True Source.. Working with them for last 4+ years and still counting. It is a positive experience. Brad and Joanne both are responsive and they care for me. I appreciate their timely communication at every stage in a contract. I certainly recommend True Source to consultants looking for a reliable Staffing firm. - Kannappaganesh N.

Fantastic response time! I was only on the job market 24 hours before I had an interview and landed the job thanks to Alec from True Source. - B O.

True source recruited me for a great job that I love. They listen and understand your needs and wants, and are super excellent to work with. Would highly recommend to anyone hiring or looking to get hired! - Justin V.

I had the please of working with Adam S.I was then introduced to the rest of the team. So far everything has been great! The HR team is fast and responsive! - Anthony A.

I had a good experience with True Source - way better than other recruiters I've worked with. Alison and the True Source team really took the time to understand my skillset and personality, and matched me with companies that were a good fit on both fronts. Ended up placing at a great local company within a couple weeks. - David F.

I can't thank Alec and TrueSource enough for helping me find the best opportunity for me and for my career. Alec presents himself as professional and dedicated, he truly cares about his clients success and works hard to understand their background and where they want to be. I highly recommend Alec and the TrueSource team to help you narrow in on the next step in your journey towards success. - Chris P.

True Source IT has always dealt with me in a professional manner and helped me find interesting work in the software development field. - John M.

Very professional and always able to answer any questions you might have. Alec was always available and quick to reply when anything came up regarding the position I eventually received. Great working with all the people at True Source. - Marc K.

Great experience. The process from first introduction to placement was efficient, productive, fair, friendly, and quick. Nice to have a new firm on my top companies to work with. - Steve B.

True Source helped me find a software developer spot that I think is going to be a great fit. The experience was friendly and free of drama. Transitions are always stressful but True Source made it as smooth as it could be. - Steve K.

I had a very pleasant experience with True Source, I got placed quickly into a full time position without any frustration. This position was exactly what I was looking for and better than I thought I would be able to get. True Source helped me get my foot in the door. Throughout the hiring process I was able to receive extremely quick feedback from Alec. I would recommend True Source to anyone trying to find work in IT. - Luke N.

It was great to have this company helping me to find a job in Minneapolis while I was living in Austin. JP support was awesome, following the whole process and giving me the all necessary advice for the interviews. Communication was always clear and precise. I'm very grateful for all the work that JP and the True Source team did for me. - Marcelo C.

Wow, such a wonderful company to work with... Brad & Gena are so friendly and helpful on job... I worked with them twice in past... Always recommend to friends & colleagues. - Rajendran T.

I worked with Alec Arthur at True Source. He made my last job transition quick, easy, and painless. He took the time to learn about my past experiences and career aspirations and was able to find a position that was the perfect fit for what I was looking for. Plus, he successfully negotiated for the salary that I was asking for. I'd definitely recommend working with this guy! - Travis L.

I had a great experience; they quickly got me an interview that turned into a great job.I definitely recommend them. - Jim S.

I was contacted by a rep from here named Alec shortly after beginning my job search. He got me an interview almost immediately, I ended up getting the job and now love it. True Source apparently placed many people at my company here, 10/10 would recommend. - Zach F.

It was great being able to work with Alec to find my next job. He had a couple ideas right away but also worked with me to focus in on what I wanted out of my next job. Highly recommended! - Brian N.

Everyone in the company is a professional and Wyatt was extremely helpful to work with. I'd echo another review I saw on here that True Source IT really is a good option to work with if you're looking into consulting or even just finding your next full time gig. This is all because of the level-headed and straightforward negotiation process. Highly recommended!! ⭐️⭐️⭐️⭐️⭐️ - Mike S.

Very professional, Friendly, enthusiastic individuals. Helped me find my next career step in just 10 days. If your looking for next step in your career, I would highly recommend them! - Jim W.

True Source was able to match me with my current job. They were able to identify potential employers that matched my criteria and focus on my needs and preferences. I was given support through every step of the hiring process and I felt that the maintained good communication and transparency throughout. - Stephen F.

I really enjoyed working with Wyatt at True Source. Unlike typical recruiters, he seemed genuinely interested in placing me in a position that would be interesting to me. He honestly seemed more interested in advancing my career that his own. Furthermore, he only called when he had news and was very conscientious of my time, making an effort to call outside of normal business hours. - Matt R.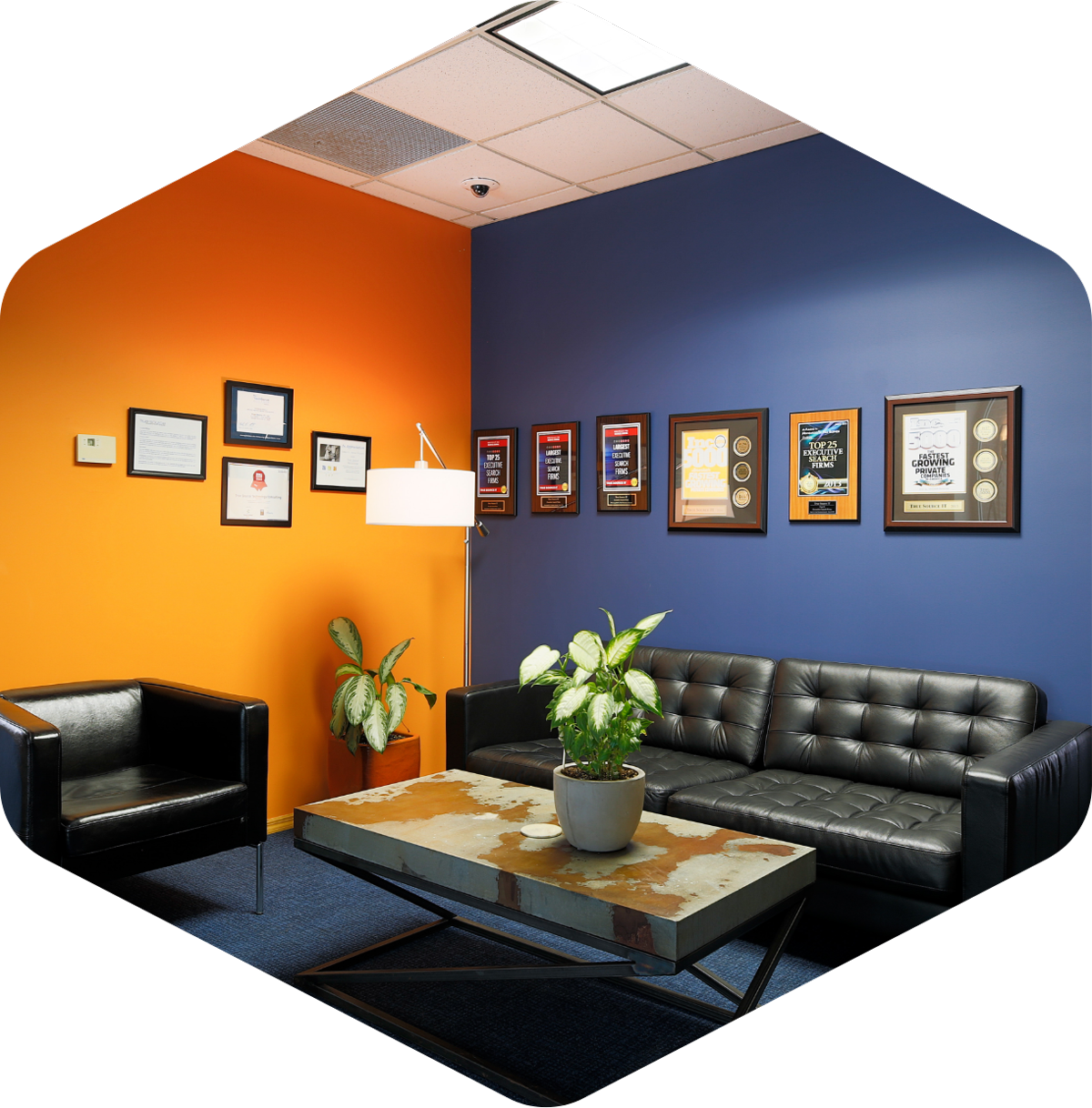 Why choose True Source Recruiting?
Experience is our calling card. Having worked with countless businesses and job-seekers across the spectrum in 10+ years of service, we feature a staff of tenured recruiters with strong local candidate networks. Our genuine relationship focus and casual-yet-serious style also help differentiate us. There are many technology recruiting firms in Minneapolis and the Twin Cities. We'd love to show you what makes us unique.